The Perfect eReader App

What?
Reading is life! uBooks XL mobile app gives you the comfort, you can easily access and download any book or document of your choice in different formats.  This informative app also offers translation features.
How?
Many people find it inconvenient and boring reading books, but not with uBooks XL. This impeccable app makes it possible for one to read ebooks and documents of different formats like, epub, fb2, html, txt, pdf, rtf and docx on iphone and ipad. This app also offers integrated translator and auto-scrolling features.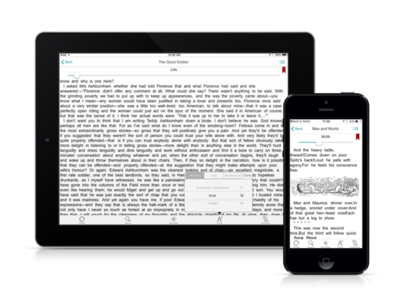 We Make Your E-reading Much Easier
App Features
uBooks XL reading application is a cutting-edge technology commonly used by Apple devices users. It is an informative and engaging application that helps improve the reading abilities of users, it is highly functional and also helps you maximize all reading options. This impeccable application has an advanced version uBooks XL 3.0, which can be downloaded by Apple users specifically depending on users' preferences.

uBooks XL 3.0 now runs on iOS 7.0 or later versions, it has tremendous and conservative functions, attention grabbing design and intuitive platform for i-users. The app serves diverse functions and is easily accessible. The new version is uniquely modified with new spectacular functions and a lack of some features in the old version. Such as themes, the style of scrolling on a page and turn on/off option of the status bar. Having highlighted the absent features in the new version, let us have a keen gaze at the new features and functionality of this recent version.
uBooks XL Screenshots
Click on any image to enlarge
Nix Solutions – Who Are We
App Developed by Nix Solutions ltd.
NIX Solutions Ltd. a company in business since 1994 is providing system integration services and custom software design outsource services.
One of our main areas of expertise is mobile apps development for iOS, Android and Windows platforms.
NIX Solutions Ltd. provides end-to-end mobile applications development services.